It is not too early! Stop by our offices to receive information regarding our 2018 SUMMER CAMP!!!
___________________________________________________________________________________________________________
2017 AFTER SCHOOL PROGRAM!
Stop by our offices at 863 Prospect Avenue to sign up your child today!
SUMMER CAMP 2017!
---
First of the Season Movie Night! Come one, come all. Thursday, May 1, 2014.
Tyler Perry's MADEA'S Witness Protection
Where: 830 Fox Street — Community Room
Time: 6:00pm
Thursday May 1, 2014
Snacks provided
***********************************************************************
RESIDENT NEWSLETTER  – APRIL  2014
RESIDENT NEWSLETTER  – MARCH 2014
RESIDENT NEWSLETTER  – FEBRUARY 2014
**********************************************
Banana Kelly, in partnership with New York Communities for Change, is please to offer free ESL classes.  To enroll, please stop by 1290 Hoe Avenue, Monday January 27 or Wednesday January 29 from 7:30 to 9:30.  Space is limited so please stop by 1290 Hoe Ave. to enroll.  See attached flyer for more details.
BK Bronx ESL Flyer Spring 2014
**********************************************
HAPPY HOLIDAYS to all!  We wish you a very merry holiday season and a happy and healthy New Year!
***********************************************
Hundreds of guests (by our count close to 300) came dressed to the nines for our annual year-end Meet & Greet celebration on December 6th.  What an amazing event it was and this year we surpassed all expectations!  Banana Kelly's end of year celebration is our opportunity to take stock of the year, review our accomplishments and acknowledge those who have helped us make a difference in the lives of the residents of our community.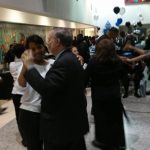 Joining us were Bronx Borough President Ruben Diaz, Jr, who received the Champion for Working Families Award, Councilmember Maria del Carmen Arroyo, who received the Local Legislator Award, Assemblymember Carmen Arroyo, and Councilmember Vanessa Gibson. Representatives from the offices of other public officials were present including Paula Pacquais from the Public Advocate's office, Michael Duvalle from State Senator James Sanders' office and Wilhelm Ronda from the Bronx Borough President's office.  Additionally we were pleased to have in attendance Corey Ortega, President of West Harlem Democratic Club, Anthony Harmon of the Family Services Coordinator UFT and community activist Jacques Leandre.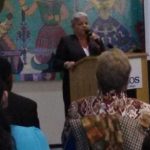 Special thanks to Signature Bank, LISC, Con Edison, MBD Community Housing Corporation, and the ROM Group.  We are also thankful for the support we received from Casa Amadeo, Perry's Coffee Shop, Amor and Success House of Prints.  We cannot wait for next year! See you then.
---
1st Annual Bronx Gentrification Conference
Saturday December 7, 2013 — 3-6 Panel Discussion; 7:30 Film Screening
Bronx Documentary Center
614 Courtlandt Avenue, Bronx 10451
Harry DeRienzo, President, Banana Kelly, is a member of the panel discussing gentrification
http://bronxdoc.org/post/67662846354/1st-annual-bronx-gentrification-conference
*****
Affordable Housing in the News.
News conference December 3, 2013
A Bronx Housing Story: From Despair to Renewal on Kelly Street
The video is a celebration of the tenacity and perseverance of Bronx residents.   This block along Kelly Street is where Banana Kelly began. In the late 1970s while much of the remaining neighborhood was abandoned and left vacant from neglect and arson, this block was hanging on due to the heroic efforts of Frank Potts, a long time resident who lived at 928 Kelly Street and owned several other buildings on the block.
Three vacant buildings along the same block,  936, 940 and 944 Kelly Street became the targets for Banana Kelly's first preservation effort in 1977.
In the 1990's Frank Potts retired and sold his buildings. After a series of owners, the buildings ended up in the hands of an unscrupulous speculator who increased the mortgage debt on the buildings from $800,000 to $5 million. The new owner pocketed the new mortgage proceeds and stopped providing services to the buildings.  In 2011 the situation got so bad that Banana Kelly teamed up with Mothers on the Move to organize the residents and push for a court appointed administrator. That same year, Harry DeRienzo, President of Banana Kelly was appointed and served as the administrator for the buildings.  Immediately after, tenants in the very worst apartment were relocated and Banana Kelly began the process of rehabilitation.  We cleaned up mountains of garbage, fixed broken pipes, repaired walls and ceilings, established legal tenancies and generally provided services to the residents while working to completely redevelop the properties. Redevelopment was a bit difficult because the bank that held the mortgage was reluctant to consider our refinancing plan.  So we brought in partners, including Workforce Housing Advisors and others mentioned on the video, to help negotiate the purchase of the noted mortgage and make the much needed repairs. Today the buildings consist of 79 units of newly renovated affordable apartments and in the coming months, as we work with the tenant association, we will be installing a green infrastructure project that will collect rain water and provide usable open spaces for the residents.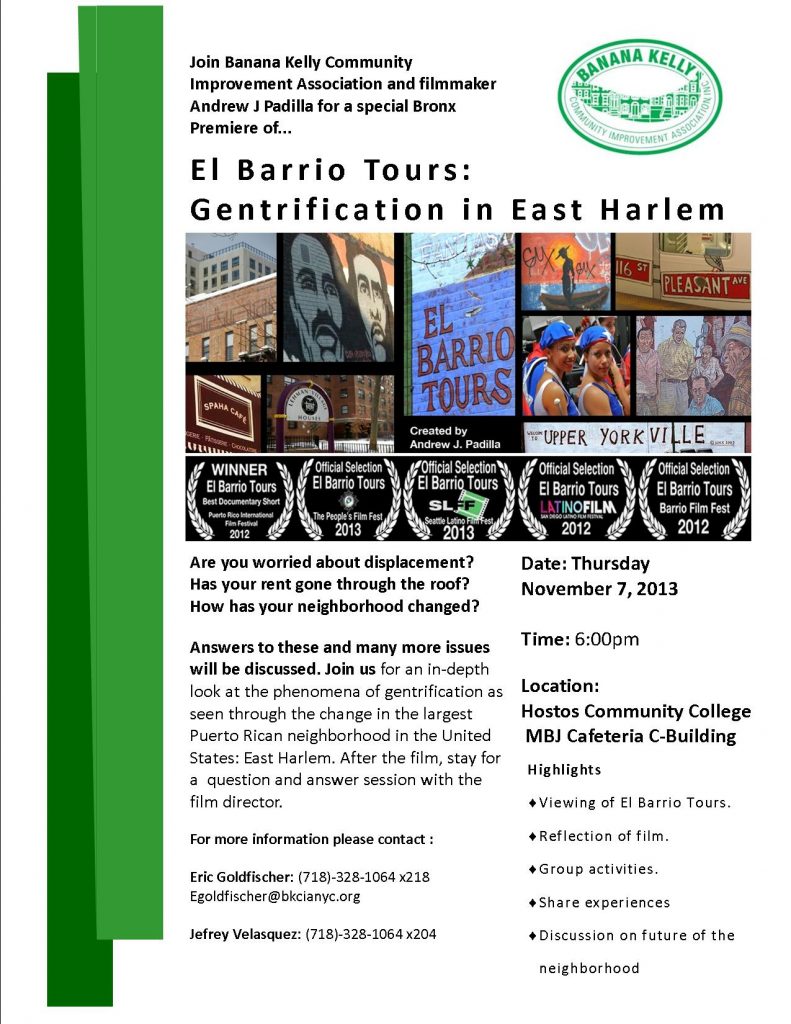 ******************************************************************************************************
This Saturday, October 19th  Banana Kelly is hosting its Fall RENT CLINIC.  Please stop by anytime between 10:00am to 2:00pm at our offices located at 863 Prospect Avenue.
***************************************************************************************
********************************************************
ESL Classes begin Monday October 30th.  Please see following for details:
Banana Kelly CIA Inc
New York Communities for Change
CLASES DE INGLÉS GRATIS
Inscripcíon Para La Clases:
Miércoles 2nd de Octobre y Lunes 7th de Octobre
7:30 – 9:30 pm
¡Inscríbase ya! Cupo limitado
Lugar: Banana Kelly
1290 Hoe Ave.
(Salon Comunitario del 1er piso a la izquierda de la entrada principal)
(Entre Freeman y Jennings Streets)
(Tren 2 a Freeman Street)
Nivel 1: Inicial Básico: Lunes y Miércoles: 7:30 – 10:00 p.m.
Nivel 2: Inicio Avanzada: Lunes y Miércoles: 7:30 – 10:00 p.m.
Inscríbase Para Las Clases:
 (347) 410 – 6919 x242 (NYCC) o
(718) 328-1064 x204 (Banana Kelly)
************************************************

Campers Go to a Yankee's Game!
On the last day of Banana Kelly's Summer Camp 2013 the campers attended a Yankees game.  A very big THANK YOU to the National Baseball Hall of Fame for providing the campers with the tickets.  Even though the game was delayed for over 3 1/2 hours because of rain, the children had a great time.  We walked the stadium, visited Memorial Park and all the campers received a certificate commemorating their first time at the stadium.  And although we were not able to stay for the entire game the children had a great time.  AND the Yankees won 5-3 over the Blue Jays. We owe much gratitude to Morgan Stanley, Workforce Housing Advisors and the National Baseball Hall of Fame for their support, without which our summer program would not have been as successful as it was. We cannot wait for next year!
   *************************************************************************

Monday, August 26th, 6pm, 770 Bryant Ave: Mural opening party/garden party.
Celebrate the new mural painted by Sharon De La Cruz.  Special thanks to our partners NYCSWCD for arranging the installation of this special mural. See you at the party!
********************************************
BANANA KELLY IN THE NEWS!!!!
Using Baseball History.  A recent article in the New York Times highlighted our Summer Camp. To read the story, Using Baseball History to Teach Children Big Lessons follow this link.
—————————————————————————————————————-
JOB POSTING
Dated: July 2013
Anticipated Start Date: September 1, 2013
 Banana Kelly Community Improvement Association, Inc., a New York City not-for-profit community development corporation providing housing and services to low-income families, including formerly homeless and the disabled, seeks a full-time Property Manager to oversee the maintenance and operation of our HDFC portfolio financed through a combination of PLP, LAMP and SIP (homeless) financing programs.  The portfolio consists of about 650 units located in the South Bronx, with a concentration in the Hunts Point-Longwood area.  The Property Manager will report directly to the Director of Program Operations and will be expected to work closely with our back-office management company (Wavecrest Management Team, Ltd.), organizing, case management and social services staff.
Banana Kelly is seeking candidates with experience in full service property management who are able to function in a collaborative environment that is rewarding, but also stressful at times, and focused on ensuring the quality of housing for all of our residents, protecting our real property assets that have received substantial government support, acting decisively and aggressively against anti-social and illegal behavior, but at all times respecting our residents, ensuring their rights are not violated, and helping to facilitate our mission of maximum resident engagement and participation in group activities, including but not limited to participation in tenant associations, our Resident Council, governance positions, and broader community and city activities.  We are looking for a candidate who can apply best practices to our existing systems and procedures, as well as recommend improvements and changes, as called for.  Ultimately, the Property Manager will work as part of a team that is responsible for providing safe, healthy, and neighborly environments for our tenants.
Specific responsibilities include:
Supervising existing maintenance personnel, subject to a collective bargaining agreement with Local 32 BJ
Hiring and firing maintenance personnel, pursuant to union contract requirements
Regularly inspecting all buildings and units
Prioritizing and overseeing complaints, work orders, and all repair and capital improvement work, including work done by outside contractors
Ensuring that tenant repairs and concerns are addressed in a timely manner and that proper records are maintained and updated concerning same
Establishing and maintaining property inventory controls
Managing and expanding our list of vendors and outside contractors
Overseeing all maintenance and service contracts
Removing and maintaining buildings that are violation free, to the extent possible
Overseeing all janitorial and cleaning activities to maintain clean and presentable buildings but also to minimize tickets, fines and violations
Managing and facilitating all Section 8 inspections and follow up, including work necessary to maintain Section 8 and other subsidies
Managing apartment turnover and minimizing vacancies on an ongoing basis
Participating in all aspects of Asset Management, particularly with regard to budgets, rent collection, and violations removal and tracking
Overseeing and facilitating marketing of vacancies for residential and commercial spaces, but in all instances prioritizing the filling of vacancies from the Banana Kelly waiting list prior to receiving outside referrals or utilizing outside brokerage services.
Participating in the preparation of the annual operating budget, and maintaining budgetary guidelines
Monitoring rent arrears and working both with Banana Kelly staff to avoid evictions wherever possible and work with L&T attorneys to expedite evictions when called for
Being available for tenant meetings, Resident Council meetings, and board meetings.
Overseeing property's answering service, ensuring superlative customer service, up-to-date calling sequences, and accurate contact information
Notifying residents of all issues affecting their tenancy
Maintaining building security measures, ensuring proper incident documentation and notification to management, owners, and insurance carriers of all incidents
Maintaining familiarity with all procedures and requirements of accounts payable and accounts receivable
Remaining current on and compliant with policies and laws affecting the operation, marketing and leasing of the property, including the Company's leasing agreement, all regulatory agreements, Landlord Tenant Law and regulations, Fair Housing laws, and other applicable laws
Leading lease orientations and signings, and submitting all relevant documentation
Ensuring property's filing system is maintained and includes tenant, applicant, accounting, and vendor and contract files
Qualifiations
A.A. minimum and B.A. preferred together with 3 to 5 years of residential property management and supervisory experience.  LIHTC training required as well as familiarity with Fair Housing laws.  Knowledge of key New York City and State agencies such as NYCHA, HPD, HDC, NYSHCR, and NYS HHAC a plus. Candidate must have strong organizational, oral and written skills and be computer literate.  Experience with affordable and supportive housing and nonprofits a plus.  Commitment to customer service and Banana Kelly's mission required.
Compensation. Salary commensurate with qualifications. Excellent benefits including health/dental, life insurance, pension.
To Express Interest:
Please send a current resume with a cover letter to:
Hope Burgess, Director of Program Operations
Banana Kelly Community Improvement Association, Inc.
863 Prospect Avenue, Bronx, New York 10459
Email preferred:
hburgess@bkcianyc.org
Fun and Entertaining Events to Look Forward to in August!
 
At 770 Bryant Avenue a Mural Opening Party and Garden Event
At 970 Prospect a Summer Celebration and Movie Screening
These and other events are being planned for your summer enjoyment.  We will keep you posted when dates and times are finalized.
Banana Kelly is pleased to sponsor several teams within the Carballo Youth Baseball League.  Banana Kelly sponsored teams include, The Baby Royals, The Pee Wee Royals, and the Highlanders. The teams play from early May to mid August.  GO ROYALS AND HIGHLANDERS!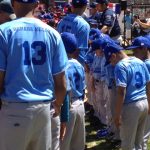 THIS Saturday June 22nd, we are hosting our final RENT CLINIC for the summer.  Drop by our main office, 863 Prospect Avenue, on Saturday June 22nd anytime between 10am and 4pm
For our residents who need to speak with our professional staff and are not able to come by our office during the week, Banana Kelly is conducting a Rent Clinic on Saturday June 22nd.  Drop-in anytime between 10:00am to 4:00pm. If you are having issues with or questions about your rent, lease or building stop by 863 Prospect Avenue our staff will be happy to provide assistance and to answer questions.
Monday June 17:
Tenant Conference

Sponsored by Council Member Helen Foster and the Tenant, Block, and Neighborhood Council

Monday, June 17th

5:30-9pm

Bronx Museum
June 5th. For years the Rent Guidelines Board has voted for rent increases that are unaffordable to tenants throughout New York City,  despite powerful testimonies, the rent increases keep coming.  This year the RGB is not hosting a hearing in the Bronx; our residents will not have an opportunity to be heard.
So…. CASA/New Settlement is hosting one for the Bronx!!!!  Come to the People's RGB being held at New Settlement Community Center, 1501 Jerome Avenue at 172nd Street, 2nd Floor. Take the D or 4 Train to 170th Street.  To RSVP, call Susanna at CASA: 718.716.8000, ext. 125.
*****
TOMORROW  Thursday, June 6th
Garden Work day at 677/681 Beck St
Join residents, BuildOn, and area high school students to brainstorming names for the garden at Beck Street and do some spring/summer planting.
 Contact Jefrey Velasques at 718-328-1064 or jvelasquez@bkcianyc.org for more details and times.
*****
THIS Saturday June 8 (weather permitting) there will be a planting meeting and BBQ at 970 Prospect.
Festivities begin at 11am
*****
Come one come all!!  Wednesday May 22, LISC is hosting a health and environment forum for residents and business owners of our Mott Haven community. If you are interested in attending the forum please contact Jefrey Velasquez at 718-328-1064 or jvelasquez@bkcianyc.org. The forum will take place at 432 E. 149th Street (The Cornell Extension Office) from 6:00 to 7:30pm.
*****
Saturday May 18th, RENT CLINIC.  Drop by our main office, 863 Prospect Avenue, on Saturday May 18th anytime between 10am and 4pm
For our residents who need to speak with our professional staff and are not able to come by our office during the week, Banana Kelly is conducting our Rent Clinic on Saturday May 18th.  Drop-in anytime between 10:00am to 4:00pm. If you are having issues with or questions about your rent, lease or building stop by 863 Prospect Avenue our staff will be happy to provide assistance and to answer questions.